Do you have a 1-year-old child or know someone who does? Then this review guide is for you.
At age 1, your baby is taking a quick and huge stride in his or her physical and mental growth and development out of that baby stage
Typically, your baby should be going gradually from rolling or crawling to walking and running as well as developing delicate senses that are only just beginning to blossom.
More so, this is an inquisitive age where your baby would start learning how to play and have some basic sensory skills. 
He or she would begin to identify patterns, objects, and shapes, pick up objects and drop them, and understand that when an object is hidden, it's still there.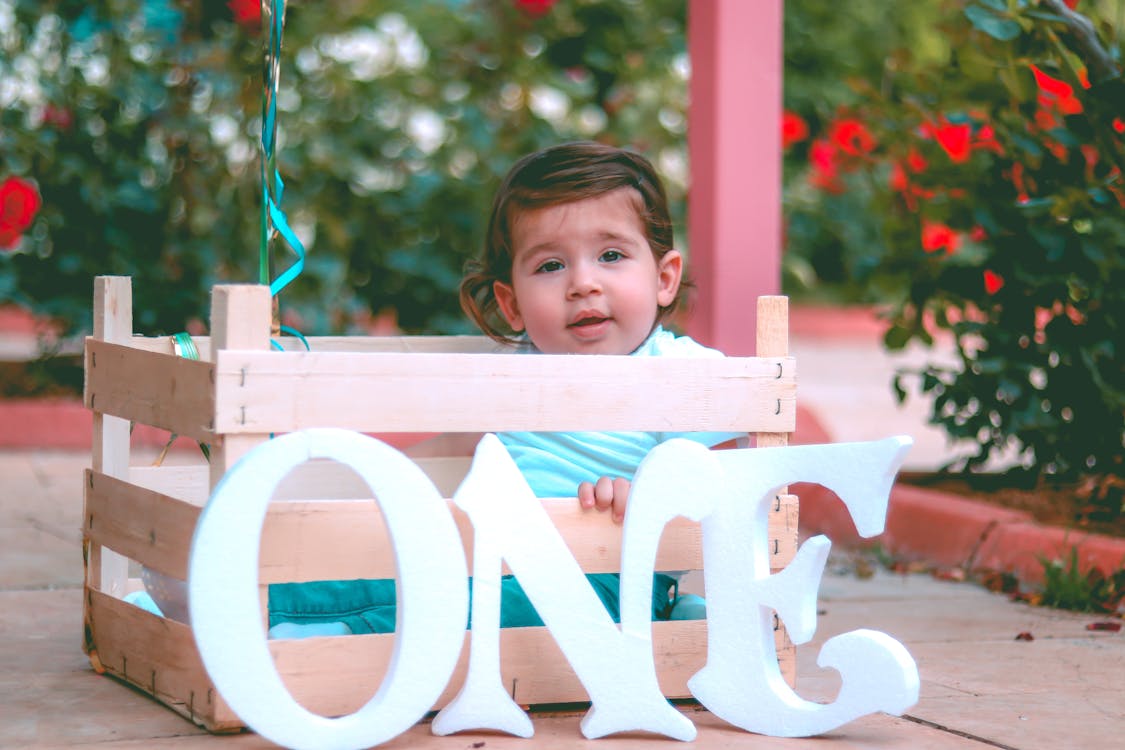 Therefore, you need to be careful and sensitive enough to know and choose what toys to buy that will help your baby rather than hinder his or her early development.
However, this can be a daunting task.
If you're in this shoe, then fear not. We understand that every parent wants to instinctively provide their child with only the best.
That is why we have collated a list of 20 fun, skill-improving, stimulating, and educational toys.
These toys will keep your little ones safely educated and entertained. Let's get started.
Note: Colorful, "less" noisy, and moving educational toys are great for your 1-year-old baby. These toys must also be sturdy as they'll get lots of smashing and rough-handling.
1. VTech Baby's 1st Smartphone
This is a digital age and everyone needs a smartphone, your baby needs a smartphone too (smiles). So, get this VTech baby's 1st smartphone for your 6 months+ baby for amazing fun.
This cute smartphone-styled toy has a "touchscreen," flashing lights and lots of fun phrases and noises for your baby. 
An amazing feature about this toy smartphone is that it contains simple questions that will get your baby talking and encourage interaction and discovery (App mode). 
The app mode encourages your baby to call their animal friends and interact with the 12 light-up app buttons to hear fun phrases about the weather, messages, sing-along songs, etc.
The toy also features a cool sliding screen that changes the mode of play and includes a home button, call-and-reject buttons, and a chunky slider similar to a real smartphone. Parents can even program in their telephone number. 
The toy requires 2 AAA batteries (included) to operate.
2. Mega Bloks Construction Toy
This popular "building blocks" toy is very helpful in building your baby's creativity and color cognition. 
The building bag contains a variety of bright color blocks (including red, yellow, purple, etc.) of various shapes and forms (not the standard rectangular shape). 
These will not only take the building challenge to the next level but also allow your child to build the most innovative designs and towers.
The 80 blocks are well-designed to fit small hands and also help your baby to develop fine motor skills.
The building bag is big enough to pack up all the blocks nicely for easy storage until the next playtime. 
3. Munchkin Squirtin Bath Toy
This Munchkin Squirtin Bath Toy pack is specially designed to teach your baby animal names and sounds in fun ways in the bath. 
So, if you have a hard time getting your little one to take a bath? This bath toy set might get him or her to do so.
There are eight different water-squirting, floating barnyard animal friends in the set.
These brightly-colored farm bath toys are designed for squeeze and strong grip and to perfectly fit small hands. 
The toy set, which includes a sheep, cow, horse, duck, frog, pig, chicken, and owl, can make bath time not only full of laughter but educational as well. 
Aside from promoting pretend play and fine motor skills, this toy set helps your baby to identify animal names and sounds, making both mom and baby happy.
The toys are made of high-quality and child-safe materials that are very durable, so you don't have to worry about chipping or breaking. 
Add these cute farm friends to your bath time mix and get ready for some barnyard imitation sounds.
4. Hape Pound & Tap Bench with Slide Out Xylophone
This educational toy is a great introduction to musical sounds. This durable wooden multi-functional musical toy would captivate and distract your baby in several ways.
Aside from its bright color ball, which gives your baby a sense of colors, hitting the balls creates musical melodies that not only amuse your little one but encourages musical development and exploration, audio recognition and play. 
The toy also provides physical exercise – getting your child to run after the balls – thus establishing muscularity.
It also promotes fine motor skills development through hand-eye coordination, manipulation, arm movement, cause and effect, etc.
The removable xylophone can also be used separately to play customized melodies using the individual notes.
This toy is built with round edges for added child safety. It contains water-based paint and has non-toxic finishes.
Hape Pound & Tap Bench with Slide Out Xylophone has won several awards, making it one of the most popular toys in its category.
5. VTech Rhyme and Discover Book
This is reportedly the most interactive book for your 1-year-old baby. If you're looking for the best book to read to your kid at bedtime, then this book is for you.
The book comes with thick pages that make each page easy to grab and turn, even by a baby.
The book also has three tabs of cute characters that light up as they're pressed.
Aside from the interactive stories in the book, the tabs also play melodies and pronounce animal names, sounds, and other simple words. These make the book very educational. 
This interactive book toy is made of high-quality plastic and is designed to withstand smashing and rough play.
Most parents appreciate the volume control and automatic shut-off features of the book.
6. TOP BRIGHT Activity Cube Wooden Toys
If you require the best educational toy that combines multiple mental and developmental milestones, this toy is your pick.
This cube wooden toy pack gathers five activities to keep your baby entertained while learning.
The toy features a beads labyrinth that encourages reaching, spinning tools (gears) promotes logical thinking.
The zigzagging bee and ladybug activity promote grasping skills, the shape sorter promotes hand-eye coordination, while the clock with movable indicators guides the child to develop a concept of time.
All the activities are designed to enhance your baby's logical thinking and coordination, among other benefits.
The toy is also made with non-toxic paint and has round edges to avoid injury.
The maze easily stores in the box, saving space in your baby's room when it's time to put the toy away
7. Fisher-Price Little People Caring For Animals Farm Playset
If you need the best animal toy for your baby, then this Fisherprice toy is the best pick.
This toy isn't only the best toy to learn animals' names and sounds, but it also teaches your baby how to care for animals. ​
The toy includes Farmer Jed figure and 4 animal figures—pig, chicken, horse, and a cow with her calf.
At the push of a button, songs, phrases, animal sounds, and lights make this farm interactive and easy to use for your baby.
The toy also comes with a few play accessories, such as a horse blanket, food for each animal, and a discovery button for egg hatching. All these make the animal farm playset more realistic.
This toy requires 2 AAA batteries (included) to operate.
8. Fat Brain Child's Personalized Name Puzzle
This personalized name puzzle creates memories and introduces your baby to spelling in a personal way. The bright and colorful letters are easy to grab even by the smallest hands.
Your child will get so excited when seeing a puzzle created out of their name. Just mention your baby's name (up to 9 letters) and leave the toy to do the magic.
The toy encourages fine motor skills, letter recognition, spelling skills, and boosts self-esteem. The colors are chosen randomly, and each letter measures 3 inches tall.
As your toddler grows and becomes old enough to handle more complicated puzzles, this makes a great decorative accessory in a child's bedroom. 
The toy is made with high-quality wood and finished with non-toxic paint, which makes the toy safe and a delightful personalized gift.
9. Sandistore Pounding Wooden Toy House with Toy Hammer
This Montessori style toy is designed to teach your child one skill at a time, encouraging independent play.
This Sandistore Pounding Wooden Toy does not only give babies exposure to early music education but also develops their important motor skills.
The toy stimulates your child's brain development – both logic skills and sensory perceptions.
It promotes dexterity, hand-eye coordination, manipulation, arm movement, cause and effect, etc.
More so, this pounding toy encourages musical development and exploration, audio recognition and play in your baby.
This Montessori toy is durable and contains water-based paint and non-toxic finishes, which makes it child safe.
This toy is slightly similar to "Hape Pound & Tap Bench with Slide Out Xylophone" toy but without the xylophone and the knocked ball rolls out through an opening.
10. Crayola: My First Fingerpaint Kit
This educational toy not only teaches your child colors but also introduces him or her to painting skills. 
Crayola is an art tool containing six 3-ounce tubes of different washable fingerpaint. This washable fingerpaint set is ideal to encourage your child's curiosity and creativity.
With a little planning ahead of time, it may not be the nightmare you're imagining.
The six paint tubes are green paint, orange paint, violet paint, red paint, blue paint, yellow paint. 
The tubes are easily squeezable, even by the smallest hands, to get more paint out. The paints are non-toxic so your little one will be able to paint safely, setting their imagination free. Being washable also makes cleanup easy.
Crayola Fingerpaint kit is designed to promote learning and early childhood development by allowing your baby to explore artistic techniques, tools, and materials as they create.
The kit also promotes physical and thinking skills as your child adds color to his or her worlds.
11. Little Tikes 3-In-1 Sports Zone
One way to keep your kid busy this summertime is to present him or her with this Little Tikes 3-In-1 Sports Zone toy. This toy keeps your baby busy in a slightly more challenging way. 
This multi-functional sports center allows your child to choose between three sports – basketball, soccer, or bowling.
Aside from teaching your child sport, this game also teaches him or her numbers, shapes, and how to follow directions and more. 
For added fun, each sport comes with its own ball. More so, the interactive scoreboard contains three modes – move, learn, and games, producing 75 sentences and sounds.
The scoreboard also indicates the number of goals, keeping your baby engaged as he or she scores. The basketball hoop is adjustable to your baby's height, so it should grow with your child.
To free up some space, the kit is also foldable in case you need to.
12. Ninky Nonk Musical Activity Train Toy Pack
This amazing 78cm long Ninky Nonk Musical Activity Train toy is based on the Ninky Nonk Train from the popular CBeebies show "In the Night Garden."
The toy pack contains five products (carriages) and each has a different feature to play with. The toy is made of durable and chunky plastic, which makes it perfect for little hands to grasp.
In all, this train toy has 14 different features for your child to play with.
Each carriage encourages important learning skills and includes fun activities to encourage creativity, such as sound, shape and color recognition, senses stimulation, hand-eye co-ordination, improved fine motor skills, and a soothing bedtime light. 
The toy also includes five recognizable tunes from the CBeebies show. The toy requires 3 AAA batteries (included) to operate (you'll need a screwdriver to fit the battery in). Finally, the toy comes with sound on/off function and replaceable batteries.
13. Fisher-Price Baby's First Blocks Pack
The Fisher-Price Baby's First Blocks Pack is very similar to Mega Bloks Construction Toy just that this toy teaches your baby shapes basically. 
It's a bestselling toy pack of 10 multi-colored blocks of five different shapes. 
Your baby would empty the blocks and then try to post back in through the correct shaped holes in the lid.
By sorting and stacking the blocks, your baby can learn to identify and match shapes, which will build their early identification skills.
The five-block shapes include cylinder, star, triangle, cube and a plus sign. The bucket is portable and also has a handle for easy carrying. 
The blocks are simple, colorful, sturdy, and light and are in a good size for your 1-year-old baby to grasp, hold, and manipulate.
More so, the toys can withstand all sorts of rough handling and banging together in and out of the bucket.
Filling the bucket with blocks, dumping them out, and starting over is great for hand-eye coordination and other early skills.
14. VTech Chase Me Casey
VTech Chase Me Casey is a 34cm-high skating and dancing monkey. It can sense when your child is near and it can either dance or skate to encourage your baby to dance or chase it around the floor. 
The toy "Casey" has five light-up buttons that introduce letters, numbers, body parts, music and more to your child when pressed. This toy requires four AAA batteries (included).
This toy is good to introduce your baby to letters and numbers and encourage speech development by repeating all the fun sounds and sing-along songs of this sensory toy.
15. Manhattan Toy Tree Top Adventure Activity Center
This 22.5″ tall and 18″ wide activity table is small enough for your baby to sit and play but large enough for your baby to tinker while standing.
The tree top adventure wooden toddler toy is packed full of motor skill activities.
Your baby won't even know he or she is practicing his or her fine and gross motor skills as they investigate all of the features offered by this tree-themed activity center.
This activity table features gliders, springy flaps, spinning dials, bead runs, and shape recognition.
This wooden toy has a water-based, non-toxic finish, and is suitable for any 1-year-old baby as a birthday gift, nursery toy, or room décor piece.
Manhattan Toy Tree includes 4 quadrants with a variety of activities: 6 tracks with animal-themed gliders, 6 bead runs with colorful wooden beads, a spring flower and more. However, this toy requires an adult to assemble it.
16. Leapfrog Spin and Sing Alphabet Zoo
This toy is great at developing the vocabulary and motor skills of your baby. Leapfrog Spin and Sing Alphabet Zoo features three ways to play – letter, animal, and music learning modes. 
Thus, it introduces your baby to letters A-Z, animal names, and sounds. This learning can be explored with each spin of the wheel.
Lights also reward each touch. This toy develops your child's motor skills with its spin, push, and slide.
Every spin turns the inner wheel and when it stops, it plays the letter or animal that was found.
While the ball spins, listen to the colorful beads on one side and watch animated LED colors that light up the other side.
Slide the bee or press the frog and rabbit buttons for fun surprise actions that develop motor skills.
17. First 100 Words Board Book
Just as its name shows, this board-book contains the supposed 100 words for your child.
Your baby will soon learn some essential first words and pictures with this bright board book with boldly illustrated pages.
This book contains 100 color photographs to look at and talk about, and 100 simple first words to read and learn, too.
The pages are made from tough board for hours of fun reading, and the cover is softly padded for little hands to hold.
18. VTech Pull and Sing Puppy
This pull and sing puppy toy teaches your baby numbers, colors, and body parts through songs, melodies, sounds, and phrases.
Your baby can easily pull the playful and singing puppy using the cord, which also activates music while building gross motor skills.
This puppy toy has three colorful buttons, which promote fine motor skill development in toddlers.
This toy introduces numbers, colors, and parts of the body. It plays music and puppy sounds to promote language development in a playful way
The puppy's nose lights up with all voice, sound, and musical responses to attract your baby's attention. This toy requires 2 AAA batteries (included) for regular use.
19. LeapFrog Learn and Groove Musical Table
LeapFrog Learn and Groove Musical Table is a colorful musical instrument whose buttons activate a variety of 70+ songs, tunes, and learning responses for your baby.
The toy introduces numbers, letters, shapes, colors and more. It also explores sounds, songs, and instruments such as the piano and drum.
Some of the included children's tunes are "old MacDonald" and "Itsy Bitsy spider."
The toy is filled with fun musical features and exciting activities. It also encourages hours of exploration for your babies.
When your baby flips the page in the book, it switches between learning mode and music mode. Pressing any button in the learning mode plays the alphabet, colors, shapes, numbers, and opposites. 
The music mode plays popular songs, tunes and real instrument sounds of the piano, drum, xylophone, trombone, and guitar. This toy requires 3 AAA batteries (included).
20. Baby Einstein Magic Touch Piano Wooden Musical Toy
Unleash your baby's creativity with her first piano. This wooden piano toy makes music magically.
Yes!
Magically, as it has no button but the keys are only marked by paint. The piano makes music as your baby taps the painted piano keys.
You will also be mystified by this magical wooden toy that makes real piano sound when each painted key is touched.
Let your baby enjoy the look and feel of a classic wood elevated by today's technology. 
With this toy, your baby can either play classic melodies or create his or her masterpiece, unleashing your baby's piano prodigy. This toy features three sheets of music and six different songs.
Aside from helping your baby tune into different rhythmic patterns and sounds at a young age, this musical development toy will help your baby practice color coordination by matching the color-coded notes on the sheets to the keys on her piano. 
This toy is made of wood, which is durable and child safe. It requires 3 AAA batteries to function.
What to Look For In A Toy for You 1-Year-Old Baby
1). Safety: Naturally, one of the first things you should consider when purchasing a toy for a one-year-old is safety.
Ensure that the toys are made with material and finishes that are not harmful to health.
All the toys listed above are appropriate for your one-year-old baby in terms of safety.
However, if you're shopping for educational toys on your own, watch out for those toys that are safe and avoid toys with small parts that can be a choking hazard.
2). Durability: Expect any toy you choose for your one-year-old to receive lots of smashing and rough handling.
So, choose toys that can withstand stress, smashing, and tough handling from your baby – toys that wouldn't break easily.
Also, remember that your baby grows and progresses so quickly, so you'll want to consider toys your baby would be able to use for a long time.
So, you may want to look for toys that your baby can use as they get older, instead of an expensive toy that'll only be used for a few months.
c). Educational value: All the toys listed above are of high educative values. If you're shopping for toys on your own, always remember that it is beneficial to think about whether the toy you're buying is educational. 
There's a lot for your one-year-old baby to learn, from basic motor and language skills to letters, colors, sounds, and more.
Which Toy is Best?
Before buying a toy, you might want to first consider what toys they already have and what skills they're working on when you start shopping.
Remember, all our toys above are highly educational. So, consider one for your baby when shopping for his or her next toy.