If you're looking for the best transition swaddle for your lovely baby boy or girl, I wrote this guide with you in mind. You'll find exactly what you're looking for.
Swaddling is just wrapping your baby in a blanket. It's an old technique that ensures the baby's legs and arms are free and can sleep comfortably for longer.
Since time is rapidly changing, I have compiled the top 10 most-rated transitioning swaddles for your baby and you can make a choice as per baby weight or age and even prevailing weather conditions.
Best Overall: SwaddleMe Original Swaddle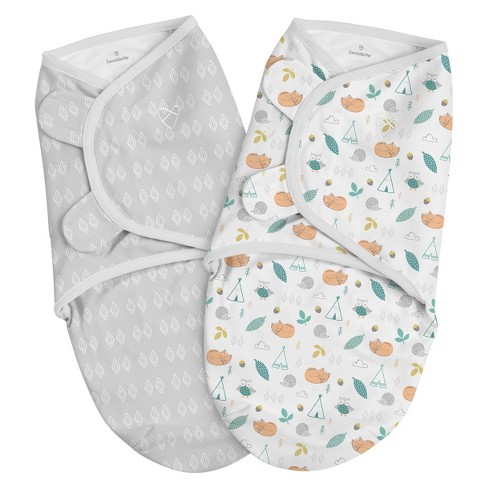 If your baby is struggling with the swaddle, the best option is Swaddleme. It's fitted with Velcro, which is used to secure it — helps in soothing your baby without disengaging when asleep.
Its set has three swaddles in it. This is very beneficial to you as the first one is used to wrap baby, the other one is on the washing machine, and finally there's one for the standby in case your baby throw out or spits.
It fashioned with 100% cotton, and thereby regulating your baby's temperature without excessive heat.
Most parents who have used this swaddle have a positive rating as it is appropriate for smaller babies and comes in two sizes both for smaller and bigger babies.
When you want to transition from the swaddle, just place one or both hands out of the swaddle as this will allow the baby to get used to getting a nap hands free.
This process requires you to fully undo it during midnight when changing the diaper, although it be tedious for some parents.
Aden + Anais Classic Swaddle Blanket
This blanket comes from Aden+ Anais. It's received positive reviews due to their flexibility.
They not only come with good weight and size (47 x 47 inches) but also it can be used as a blanket during tummy times, nursing cover, burp cloth, and many more.
This is good for first-time moms as it's very flexible.
You will need to master swaddling skills because they do not come with Velcro or other fastening stripes for securing it. You do not have to worry because the moment you master them, you can create a wrap that is fit for your baby.
It comes in set of four that is made of bamboo Musin — containing 18 print options that will suit your baby's nursery.
Most customers are happy about the softness and beauty of these blankets.
For instance, those parents who come from warm climate specifically love the lightweight of the muslin for swaddling.
HALO® Sleepsack® Plushy Dot Velboa Swaddle
Being an old manufacturer of sleepsack, Halo has produced a wide variety of wearable sleep blankets, which includes the soft, push swaddle suit.
It's produced with three soft pastel colors i.e. pinky, creamy, and bluish. It is fully polyester and comes with a wide variety of different materials that goes well with warm or cold climatic patterns.
This does not require you to master swaddling skills in order to use it because it has a zip up in the middle, which radiantly unzips from the bottom — thus making the process of changing of diaper very easy.
It also have fasteners that can be adjusted to keep the swaddle in its position. It is very flexible too since you can opt to swaddle your little one in 3 ways, that is hands–to-face, arms in, one arm or both arms to blend well with their style of sleep.
This flexibility is recommended by the International Hip Dysplasia Institute to be Hip healthy. 
Most parents like this swaddle because they say it is the best alternative to a normal blanket and helps the newly born baby's to have sound sleep.
SwaddleMe Pod
This swaddle is manufactured by SwaddleMe and keeps your little one snug and very warm.
Best fit for those babies between 5 to 12 pounds and 21 inches and below in size. You can simply zip up in the middle hence no need to wrap, fasten or do tricky folding.
It is packed with two sacks, one sack has beautiful pea pods printed on it and the other one lovely green shade printed on it. It also comes with wide variety of colors, materials and patterns, sizes to suit changing height and weight.
Its material is 93% cotton and 7% Spandax lining on it. It also has a two way zip making changing of diaper easy and simple.
Parents who have tested this swaddle says that they have proven to be lifesavers as well simple way to use it.
However, some of them are not satisfied with their inability to wrap the baby tightly like other swaddles in the market.
Baby Merlin's Magic Sleep suit Microfleece
You cannot swaddle your baby forever. Most of the producers recommends that you stop use of swaddles when the baby begin to roll to their tummy.
This microfleece sllepsuit manufactured by Baby Merlin will ease the transition process because it calms the startle reflex and they can't roll over it best suits baby's between 3 to 6 months old and 12 to 18 pounds 
It comes with complete arms and legs, which keeps your baby warm and cozy. It is not a must to wrap because you can easily place your little one in it and then zip up the zippers placed on the front side of the suit.
The arms and legs are open and it is made of microfleece on external parts and breathable layer on the inside.
Parents comments that is appropriate for transitioning because most believe in the greatness of this suit.
Ergobaby Original Swaddler
This swaddle is particularly designed to assist in preventing hip dysplasia a medical condition that prevents infants' hip joints to form normally.
Its shape and make ensures that the baby's legs is kept in the ergonomic position hence promotes healthy hips growth as well keep arms in the hands to hearth position.
It also have fasteners, which keeps the limps in place. It has a removable leg pouch that makes the changing of diapers easy. 
The swaddle is 100% cotton and comes with other different colors and fabrics. It is mostly designed for babies of 6 to 15 pounds.
Most parents love it because it is easy to use and also very effective and efficient but still some parents claim that their babies escaped the swaddle.
Love to Dream Swaddle UP Original
Some little ones finds good and more secure when their arms are nestled beside or across their bodies, others sleep more comfortably in their natural arms up position.
This enables their self-soothing. This swaddle is manufactured by Dream and it enables babies to comfortably sleep in the mentioned position, provides snug, a feeling of being secure in the swaddle, and calms the startle reflex thus making them sleep well.
It comes with single designed zip that keeps it secure and allow you to change the diaper more easily without Velcro or fasteners to learn or master.
This swaddle is specifically meant for babies between weights of 6.5 to 13 pounds and still comes with other sizes, prints, and colors.
Thought it might not work well with all the parents, most of them comment that, it is lovely and is a best alternative to choose from other swaddles.
The Ollie Swaddle
This is looks like an adult top-of-the line athletic wear. It has moisture-wicking material that keeps your little one very comfortable. Its material is 86% polyester and 14% Spandax.
It has lightweight and perforated to avoid instances of excess heat. It also have Velcro tab up that keeps secure and elastic loop to keep the bottom  closed on the baby's legs.
Changing of the diaper has been this easy as you can easily open without unfastening the other parts of the swaddle. It is packed with delicate laundry bag used when cleaning the swaddle.
This swaddle can be a bit expensive compared to others in the market but most parents says it has value for their money as the cost is worth it.
Sleepea Swaddle 
This Swaddle is from The Happiest Baby. It's secure and easy to use on your baby. It's carefully designed by Dr. Harvey Karp.
Its material is 100% organic cotton with perforation to prevent accumulation of excess heat.
Sleepea Swaddle has stylish solid colors. When using it, you simply have to put your baby in the pouch, secure arms with Velcro, and simply zip up. You can then put the baby in a crib and sneak your baby out.
The Velcro band-lined on the inside prevents your baby's Houdini from breaking up. Despite leaving your baby's leg free, it still create that sensation feeling of mum's hug.
Some parents love it because it simple and safe and makes changing of diaper easy.
However, others find it not fit for their babies because it is not really best for winter and the baby can easily sneak out.
Kaydee Baby Organic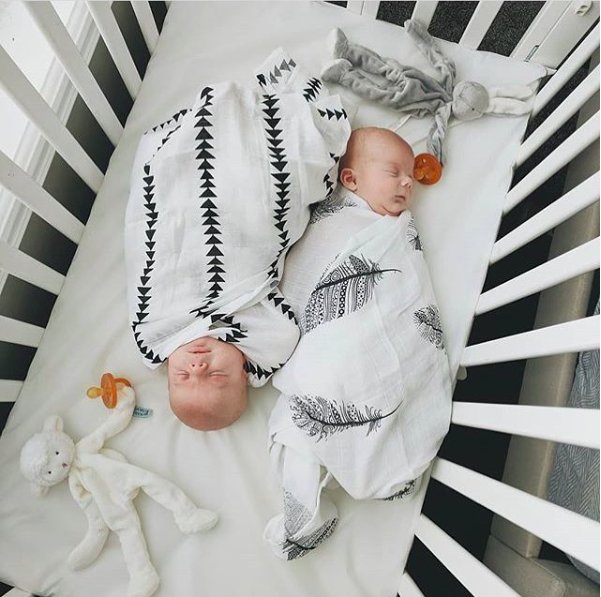 This swaddle is prewashed organic muslin cotton and is very soft so that it can't  leave a scratch on your baby's skin.
It's lightweight and has tiny perforation to allow easy breathing and regulation of heat. It has has good quality and beautiful prints that blends well with clothing.
Parents who have used this swaddle says that it is very luxurious. It becomes softer as you continue washing it and make beautiful baby shower gift.
Final thoughts
As a parent, you have all the freedom to choose the best products for your baby and ensure you check for specification before making an order.