Welcome! Here we do a comparison of Baby K'tan vs Breeze.
If you have never thought of carrying your child using baby wrapper, after reading this article, you will want to purchase one immediately.
Baby wrappers are more comfortable and very easy to wear compared to baby carriers.
Most common baby wrappers are baby K'tan and breeze. Although Baby k'tan and baby breeze are similar, they have differences too.
Baby k'tan seem to make more sales in the market than breeze, apparently, it's the most popular in town.
This has left most mothers a big task of deciding between the breeze models and the active ones. Below is an overview of each one. 
Key Differences between Baby K'tan and Breeze 
| | |
| --- | --- |
| Baby k'tan active | Breeze  |
| The material is 100% cotton polyster | The material is 100% cotton |
| It is silky in texture  | It is soft in texture |
Features of Baby K'tan Breeze
Made of a cotton material
Most babies have a very sensitive skin, which makes their parents look for fabrics such as cotton material which has no irritation to the baby delicate skin, when dry and clean.
The best type of breeze for babies with a sensitive skin is a jersey knit which is soft in texture, it's also best for babies who have eczema or a chronic skin condition.
Jersey knit is also very comfortable for the baby and it stretches which makes it good for the person wearing.
Easy to wrap
Wrap carriers are always a long fabric piece. So a parent has to use it every time until she familiarizes how to wrap it correctly.
Once you have wrapped, you won't forget, it's that easy to put on.
You basically put on by wearing it over your shoulders, it has two loops for your two shoulders. Ensure you twist well for the safety of your baby.
There's a YouTube tutorial which shows you how to wrap it. It is not used by moms only. Anyone who wants to carry a baby can use it, even the dads too. It is very easy for anyone.
Suitable for newborns 
Most infant baby carriers require a baby to be carried alongside an insert, because an infant is still so delicate, but this one does not require any insert. It can also be used for other infant positions, such as kangaroo.
The kangaroo position is mostly for newborns and babies born with low birth weight.
To provide them with the warmth they need to grow fast. When carrying your baby using K'tan you are needed to always keep an eye on your baby, ensure he/she is in a good position all the time. 
Secure your child as much as possible. He/she should be close to you enough that you can be able to reach her for a kiss anytime, ensure her back is stable and well supported, the chin should be away from the chest. Baby airway should always be clear.
Skin to skin contact with your baby helps you create a strong bond with your child, this position offers that.
Offers comfortable sleeping position and allow discreet nursing
Baby k'tan breeze is made of fabric which is very comfortable for the baby, especially when in front position.
They can just nurse and sleep as they wish. It is not that bulky as other carriers but it offers a good time for the baby. The person carrying the baby can carry whole day, in an event or out without feeling uneasy.
They can breathe with ease and you will be comfortable carrying the baby. You can see how good it is.
It can be converted into carry bag when not used
Carrier bags can be so irritating to keep when not in use, especially when put in your handbag or a purse.
It can tie your other thing inside their. And it can easily get a stain from your pen, lipstick or other makeups. Or even baby packed food or your snacks.
Or when it does not fit in your handbag and you are not using it at that particular moment.
Baby k'tan breeze comes with its carry bag that can be converted to a sash which can be carried comfortably because it can be won in different positions.
Features of baby K'tan
Baby K'tan and breeze are the same, what brings the difference is the fabric that the baby k'tan is made of.
This model comes in a standard manner with a convertible carry bag which is used the same way.
The fabric used in making baby k'tan has unique importance to the baby and the person carrying the baby.
Polyester performance sports mesh
It is of great importance to keep your baby comfortable and cool in a very hot and sunny day. The baby doesn't feel so comfortable when the sun is so scotching.
This makes it of great concern to use a carrier that allows the baby to breathe well, and the material used to make the carrier is the one that will allow passage of enough fresh air for the baby.
Moisture and sweating should not be allowed since the baby skin is very sensitive, and to prevent irritation and rashes of the skin.
90% UVA and UVB protection
Offering 100% protection for the baby during summer time is very difficult for every mom. Even the FDA always advice that, it is always not good to use sunscreen on a baby.
And also you cannot stay indoors all the time during summer season.
And that's why it's good for you to purchase something suitable to offer your baby protection during this hot period from the UVA and UVB harmful rays.
I really like wraps because it offers a couple of things, a discreet sleeping and nursing position and it offers protection from the direct sunlight as the baby enjoys the vitamin from the sunlight.
Which wrapper is the best choice for your baby
From the above description, you can see that the two wraps are almost the same, they actually share almost all the characteristics.
The only difference is the fabric. My choice is Baby K'tan (check prize on Amazon) because I love giving my baby a walk during summer. That means protection is good for you and the baby.
The best wrap for you is the one that you see is best for you and the baby. And now that you have the descriptions for both, you are good to make the best choice. 
Baby k'tan active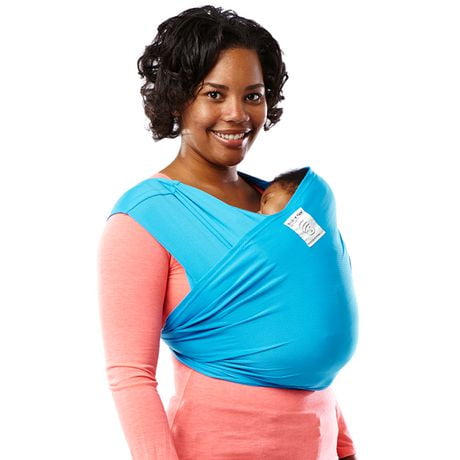 Baby k'tan active is a baby wrapper that is made with a polyester fabric, if you have seen a sports T-shirt.
It is made of the same material. This type of material is good in providing a very unique temperature regulation, breathable, since one can breathe with easy, it dries very quickly in case it wets accidentally or after washing it or in instances of sweat and moisture.
It's also very nice in preventing 90% of UVA and UVB rays. Actually, it is the best during summer or out for a walk on a sunny day.
The material is 100% polyester.
It is silky in texture!
Baby K'tan Breeze
Breeze is made of a pure cotton material. One side of the loop is made with a jersey knit cotton, while the other side is made with unique cotton mesh.
This design of cotton mesh is to allow an extra flow of air. This mesh is adjustable depending on the weather.
During summer you can rotate the mesh to come in front and during winter you can rotate the mesh to go at the back side. Breeze is best for those who prefer something more breathable.
The material is 100% cotton.
It is soft in texture.
Conclusion
I'm confident that you have seen the difference between baby K'tan and Breeze. Now it's time to decide which one is best for lovely angel. Look through the features to choose wisely!